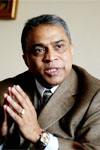 Go Global...Engage with us!
TendersInfo is the most effective 'Infomediary' within the global public procurement domain, where subscribers depend on us for relevant global business opportunities and a reliable source of support for all bid related services.
We live in a connected world, where the need of procuring globally and providing your products and services internationally is of paramount importance and necessity. National economies and companies experience periodic shocks. Mature economies and companies obviously need to go to emerging and global markets to improve their export/import strengths. We believe that the basic condition for company survival is increasingly dependent on 'being international' for sourcing and for selling services and products.
Our Bid Advisory and Public Procurement Facilitation services help companies succeed when they aspire to participate in public procurement opportunities globally by using us as virtual tendering office across borders and to do the legwork for them. Our service line consists of five major categories, namely; Bid Information Services, Bid Advisory Services, Bid Facilitation, On-Demand Services and Personalized Customer Care.
We specialize in removing the complexities out of international public bidding experience for our global customers for international Tendering. Our customers expect to get bid intelligence from us in terms of across border bidding and to support them in geographies (unfamiliar to them) that could be most suitable for their products/services.