| | |
| --- | --- |
| Type: | Government Agency |
| | |
| Industry: | Oil & Energy |
| | |
| Founded: | 23rd September 2007 |
| | |
| Employees: | 1,100 employees |
| | |
| Headquarters: | Muscat, Oman |
| | |
| Chairman: | H.E. Dr. Mohammed bin Hamad Al Rumhy |
| | |
After the oil was discovered in commercial quantities, Oman came into its own as an oil refining nation with the inauguration of the Mina Al Fahal Refinery in 1982 as the sole supplier of fuel in the country, under the patronage of His Majesty the Sultan.

Oman entered a new era in the oil refining business with the inception of the first refinery at the Mina Al Fahal area in Muscat. Following its sustained success, the Sohar Refinery Company was inaugurated in 2007. In a significant step towards providing unity of direction and a common set of targets, the merger of the two refineries has taken place to form the 'Oman Refineries and Petrochemicals Company LLC'. Today, known as ORPC, we remain one of Oman's key refining industries.



Oman Refineries and Petrochemicals Company LLC (ORPC) is a limited liability Company established vide the Royal Decree No. 99/2007 dated 23 September 2007 which stipulated the merger of Sohar Refinery Company LLC into Oman Refinery Company LLC.

To ensure that the countrys needs of light products are met, the first Refinery in Oman, the Mina Al-Fahal Refinery (MAF), commenced its operations in 1982 with an initial design capacity of 50,000 bpd by utilizing Omani crude oil. The Refinery later increased its capacity gradually to 80,000 bpd by the year 1987 and then to 85,000 bpd by 2001. Today, the MAF Refinery processes 106,000 bpd after a major turnaround, inspection and revamp project which took place in April 2007.

Twenty four years after the commissioning of the first Refinery in Oman, Sohar Refinery was commissioned in 2006 with a capacity of 116,000 bpd. Sohar Refinery was built with state-of-the-art technology to process the feedstock of long residue that is produced at MAF Refinery and blended with crude oil. This feedstock is transported to Sohar from MAF Refinery via a dedicated 24-inch diameter, 266 km long pipeline. Today ORPC's total process capacity stands at 222,000 bpd.
The Government of Oman, represented by the Ministry of Finance, owns 75% of the Company's shares, while the Oman Oil Company owns 25%.

ORPC will continue to provide quality services and products, and with the two locations it will take full advantage of the synergies and combined experiences in the business to benefit its customers and all stakeholders.
| | |
| --- | --- |
| Vision, Mission and Refining | [Top] |
Vision
To become a competitive enterprise and a model for industrial excellence with a proficient workforce.


Mission

To secure the nation's needs for refined petroleum products and to compete internationally through expanding capabilities and business activities in order to sustain superior growth for the benefit of stakeholders.

Refining and Marketing

Partners: Ministry of Finance 75% OOC 25%.
Total Capacity: Mina Al-Fahal: 106 KBPD, Sohar: 116 KBPD.
Project Status: In Operation.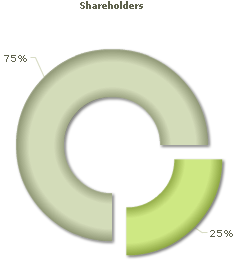 The Government of Oman merged Oman Refinery Company (ORC) and Sohar Refinery Company (SRC) in the year 2007, to create a competitive world class refining company in the Sultanate. The merged entity is named Oman Refineries and Petrochemicals Company (ORPC).

SRC was owned by OOC (20%) and Ministry of Finance (80%). OOC's shareholding in the merged company (ORPC) is 25% and the remaining stake is with Ministry of Finance.

ORPC has two refineries one in Mina Al-Fahal and another in Sohar. The Mina Al-Fahal refinery has been operating since 1982 and the present refining capacity is 106,000 bpd. The Mina Al-Fahal refinery produces gasoline, gas oil, jet fuel, LPG and long residue. The Sohar Refinery capacity is 116,400 bpd and it started operation in the year 2007. The Refinery is designed to maximize propylene yield and it produces straight run naphtha, LPG, gas oil, gasoline, fuel oil and jet fuel. The Sohar Refinery is designed to supply the raw material to Oman Polypropylene (OPP) and Aromatics Oman Ltd. (AOL).
| | |
| --- | --- |
| Chief Executive Officer | |
| GM Corporate Support | |
| GM Business Development and Marketing | |
| GM MAF Refinery | |
| GM Sohar Refinery | |
| GM Business Support | |
| Chief Financial Officer | |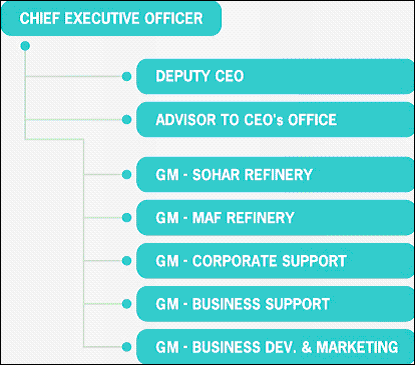 | | |
| --- | --- |
| 1982 | His Majesty Sultan Qaboos Bin Said officially inaugurated the MAF Refinery with a capacity of 50,000 bpd |
| 1987 | MAF Refinery processing capacity was increased to 80,000 bpd |
| 1993 | Continuous Catalyst Regeneration (CCR) unit was commissioned |
| 2001 | MAF Refinery processing capacity was increased to 85,000 bpd. Unleaded Gasoline was introduced |
| 2003 | Integrated Management Systems(IMS) was implemented at MAF Refinery. Sohar Refinery Project construction started |
| 2004 | Diesel Hydro-Desulphurization Unit (DHDS) was commissioned at MAF Refinery. Ultra Low Sulphur Diesel was introduced |
| 2006 | MAF-Sohar 266km. pipeline was completed. Sohar Refinery processing capacity started with 116,000 bpd |
| 2007 | MAF Refinery processing capacity was increased to 106,000 bpd. His Majesty Sultan Qaboos bin Said issued the Royal Decree No.99/2007 promulgating the merger of Sohar Refinery Company LLC into Oman Refinery Company LLC to form Oman Refineries and Petrochemicals Company LLC |

Vendor Information