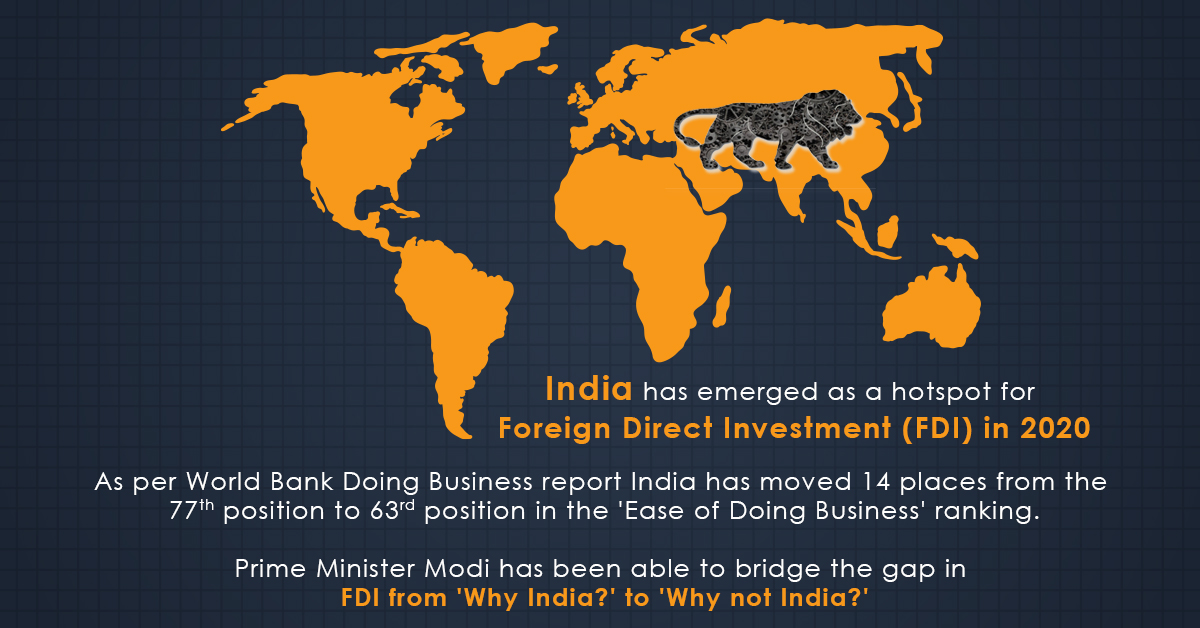 The global pandemic has made us re-look at every sphere of activities and take it to the next level. With businesses adopting newer work models and financial institutions transforming their operations to support their customers the COVID 19 outbreak has reshaped global trading relations and supply chains. In the face of an economic drop-off, India has been able to stay strong and emerge as a hotspot for Foreign Direct Investment (FDI). According to the Secretary of the Department of Promotion of Industry and Internal Trade (DPIIT) despite the global economic slowdown the nation records the highest influx of FDI of around $30 billion in the pandemic during August to September 2020.
The year started with Facebook's investment into Mukesh Ambani's Jio and the trend does not seem to go down as investors consider India as one of the emerging market for foreign investments. In the financial year 2019-2020, Amazon has invested $154 Billion in the booming Indian digital marketplace. Amid the need for an alternative from China, many countries like the US, UAE, Germany, and France are on the lookout for investing in India. Japan is planning to increase investment in infrastructural order to about $300 billion by 2020. Foxconn, the Taiwanese electronic contract manufacturer has invested $1 billion in the country.
Many online platforms can keep you updated with such insights into FDI status in India. With streamlined services, these platforms provide the complete know-how of opportunities for investment in the country. As per World Bank Doing Business report India has moved 14 places from the 77th position to 63rd position in the 'Ease of Doing Business' ranking. The key drivers of such huge investment are the relaxation in the FDI norms and a free flow environment with reduced compliance requirements. The government has relaxed several rules in coal mining, defense, contract manufacturing, and so on. There are plans to reduce compliance requirements in areas like animation, broadcast, visual effect, gaming, and comics. On 30th December 2020, the Union Cabinet approved 100 percent FDI in Direct Home Broadcasting (DTH) services alongside increasing the license period to 20 years.
The Modi Government has always encouraged FDI in India by putting low rates of interest, reduced red-tapism, and creating a fully digital ecosystem. Prime Minister Modi has been able to bridge the gap in FDI from 'Why India?' to 'Why not India?'. The union budget in 2021 is likely to allocate funds for increasing foreign investments in the service sector, manufacture, and automobile.
Online infomediaries can help you cut the lag and get customized insights about opportunities in the country. Tendersinfo's India Market Entry platform is at the center of facilitating businesses overseas to set up avenues in India. With insights and knowledge from industry experts across all spectrum of work in India, our services give you a competitive edge over others while giving you the first movers advantage in the thriving marketplace. For more information connect with us at riya.p@tendersinfo.com