India is prudently located on the world's shipping routes with a coastline of approximately 7,517 km.
India has 12 major ports. The major ports have a capacity of 1,452 million tonnes by FY18 end. The Maritime Agenda 2010-20 has a 2020 target of 3,130 MT of port Capacity.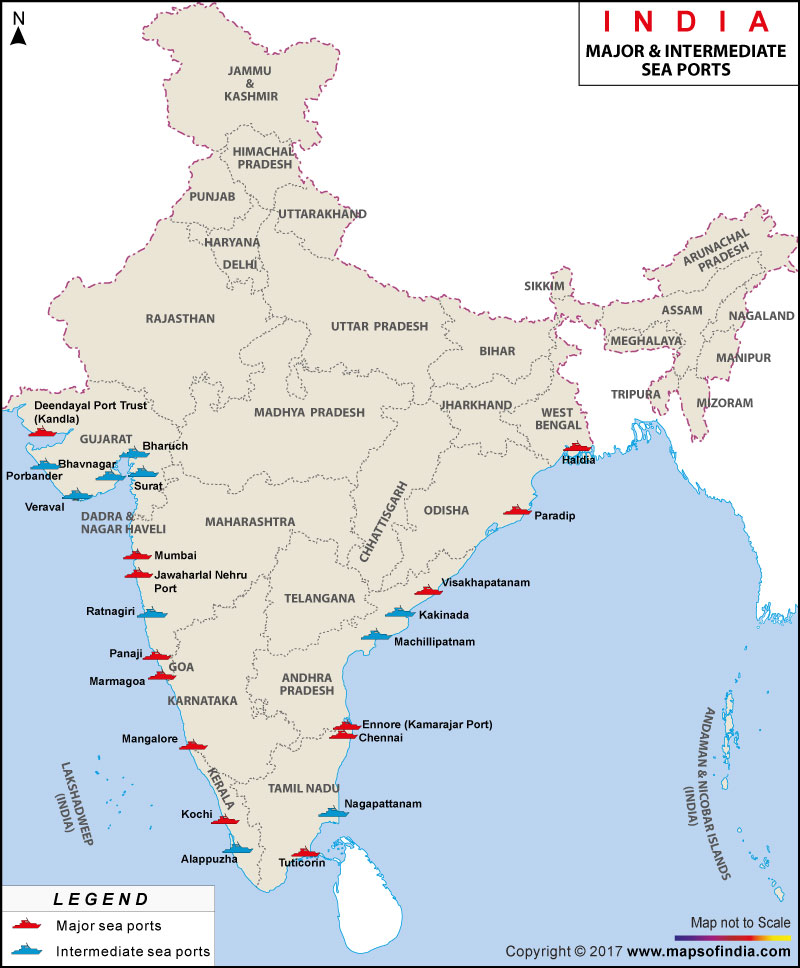 Reference: www.mapsofindia.com
The ports' infrastructure market in India is estimated to expand at a CAGR of over 9% during 2016-2025, on the basis of heavy infrastructure funding at ports and related infrastructures such as connecting roads, railways, and Coastal Economic Zones.
Furthermore, the National Perspective Plan of Government of India envisioned speculation in the investment of over USD10 billion for the next 5 years as well as focused at the development of ports. This investment inflow is forecasted to lessen demand and supply gap at ports in India in the near future.
The Government started the progressive Sagarmala Programme in March 2017, with an aim to desire the port-led development and growth of logistics-intensive industries. $123 bn would be invested across 415 projects under the Sagarmala Programme.
The National Perspective Plan for Sagarmala is expected to start with six new mega ports being developed in the country. Ports in India handle around 95 percent of the international trade volume of the country. This will lead to an increase in trade activities and private participation in port infrastructure is set to support port infrastructure activity in India.
Implementation of the Sagarmala dynamism by the Government of India grants investment opportunities for ports and related infrastructural development in order to boost maritime trade in India.
Besides this, modernization and expansion of ports by private international companies are anticipated to fuel growth in the marine transport sector in India, during the forecast period. Additionally, several Coastal Economic Zones (CEZs) projects are underway to concentrate manufacturing clusters near major ports and this is expected to surge demand for maritime trade in the country during 2016-2025.
The Sagarmala Programme was able to successfully complete 143 projects, while 190 projects worth US$ 28.2 Bn have been awarded and are under implementation. 21The average turnaround time was 59.51 hours during 2018-19.22The average output per ship berth day was 16,541 in 2018-19.23The development of the 13th major port has been approved at Wadhwan in Maharashtra.
Key factors of Indian port infrastructure market:
1. Over the decade starting 2005 annual cargo traffic doubled to 1 bn tonnes p.a.
2. The global growth rate of seaborne trade in India has grown at a rate of 3.3%
3. India is the 16th largest maritime country in the world
Investment Opportunities in Ports Shipping:
– Project – 84
– Opportunity – $10.44 billion
– Government Projects – 81
INVESTMENT OPPORTUNITIES- Make in India.
-Shipbuilding
-Ship repair
-Ship recycling
-Development of inland waterways and inland water transport
-Port and harbour construction projects
-Port and harbour maintenance projects
The government is particularly bullish on this sectoral opportunity as it has further committed to adding 58 projects by 2025 involving a cost of USD6.5 billion as part of National Infrastructure Pipeline (NIP) for infrastructure augmentation and development at major ports. Most notably, the government has introduced various fiscal and non-fiscal incentives for enterprises that develop, maintain, and operate ports, inland waterways, and shipbuilding in India. With the recent policy and initiatives stimulus, the government is looking to expand cargo traffic at Indian ports to 2500 MMTPA till 2025 from the current 2316.14 MTPA.
As the global economic growth shifts from the developed economies to the developing economies especially India, global companies need a new and adaptive way to reinvent their strategies, people, and risk to thrive.
TendersInfo India Market Entry Services can offer you a personalized bundled view of India market entry recommendation services to overcome those complications and facilitate strategies for your smooth entry in the Indian market.
Tendersinfo India Market Entry experts offer a sophisticated combination of consulting, financial, business and industry experience – a result-oriented advisory solution, instrumental in constructing your best market entry plan. This involves helping foreign companies prepare for market, identify suitable target markets and consumers, funding and market entry support via direct export, trade shows, distribution, acquisition, or direct investment.
Our services include:
+Market Intelligence & Industry Analysis
+Opportunity study
+Partner search
+Location Analysis
+Greenfield set-up
+Trade events participation
+Trade Mission support
+India Validation visit
+Company Incorporation and Trademark filing
Visit TendersInfo India Market Entry and facilitate strategies for your smooth entry in the Indian market.