Tendersinfo India Market Entry Services was inbuilt to stop all your barriers and have a valuable market set up which not only helps to lower down the stress of doing business in India but helps it to get done in a virtuous manner. Knowing the business culture and understanding the market trends is a tedious process.
So in order to have a better Market understanding and thus creating a right set up of your Business in Indian Market. Tendersinfo with India Market Entry expert team ease down your needs to let you have a better and smooth way of establishing business in India.
Our expert's services include opportunity assessment, feasibility studies, partner (Joint Venture, distributor, vendor, licensee, and franchisee) identification, M&A advisory, competitor analysis, price benchmarking, location identification, technology collaboration, assistance in greenfield establishment, organizing India validation visits and b2b networking events.
TendersInfo India Market Entry Experts stretches its wings to let you get engulfed into the following Services by providing aids into Indian Business Market: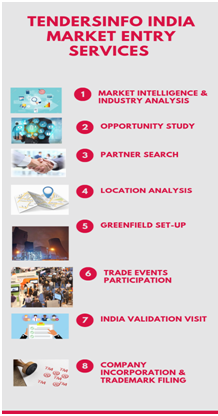 1. Market Intelligence & Industry Analysis : We can help you with studying In-depth research & analysis of your target sector in Indian Market.
→ Identify Gaps & Opportunities in Indian Market.
→ Apprise on regulatory aspects, trade and non-trade barriers specific to client's target industry
→ Present a detailed Trade Advisory report.
2. Opportunity Study : We offer and provide opportunity assessment reports on sectors of interest as well as intelligence updates along with regular updates on relevant regulatory changes.
3. Partner Search : Identifying Indian companies and assessing and interest accompanied by presenting a summary report which includes detailed profile of the shortlisted companies based on one to one discussions & internal evaluations.
4. Location Analysis : To help the companies with shortlisting the potential manufacturing/office locations based on the requirements provided by the client and advice on most suitable site alternatives along with details such as gross rental, availability, normal Lease terms and structures and lease tenor.
With this information we also provide the complete assessment regarding the Advantages and Disadvantages of setting up in a Domestic Tariff Area vis-a-vis Special Economic Zone
Tax incentives/grants available from the local government for setting up of manufacturing facilities.
5. Greenfield Set-Up : Through Greenfield set-up through our services we will help you to submit, co-ordinate and expedite all relevant government building and manufacturing statutory approvals.
→ Project monitoring and tracking to make sure that the strategies and plan of action that is decided remains on schedule
→ There will be a single Point contact in India with a designated person for all your queries
→ Recruitment and selection of staff including senior management and with providing you with local representation wherever necessary
→ Liaising with contractors and vendors
→ Review and advice on office lease agreement
→ We can assist with negotiation of vendor/contractor price and payment terms
→ Attend weekly teleconference progress meetings
6. Trade Events Participation : Tracking important industry events and apprise regularly
Attend and participate on behalf of clients.
7. India Validation Visit : Develop meetings plan & submit detailed itinerary
→ Accompany the companies to meetings
→ Prepare Call Reports
8. Company Incorporation & Trademark Filing : Our expert's services also included with assisting the companies with the registration and permission from Reserve Bank of India (if applicable)
→ Liaising with the Registrar of Companies (ROC) towards filing an application for incorporation of a Company and x Obtaining certificate of incorporation
→ Immediate Business Compliances including obtaining PAN (Permanent Account Number), → TAN (Tax Deduction Account Number), Service tax, VAT(Value Added Tax), IEC (Importers Exporters Code) and Excise Registration
→ Opening of Bank Account
→ Advice on trademark clearance search and filing of each trademark application
Our India Market Entry expert's services are a sophisticated combination of consulting, financial, business and industry experience – a result-oriented advisory solution, instrumental in constructing your best market entry plan.
You can visit our Website : https://www.tendersinfo.com/indiaentry/ and Talk to us, we would be happy to help you and assist you with a personalized bundled view of India market entry recommendation services to overcome those complications and facilitate strategies for your smooth entry in the Indian market.