#Namaste Trump to one of the largest markets in the world.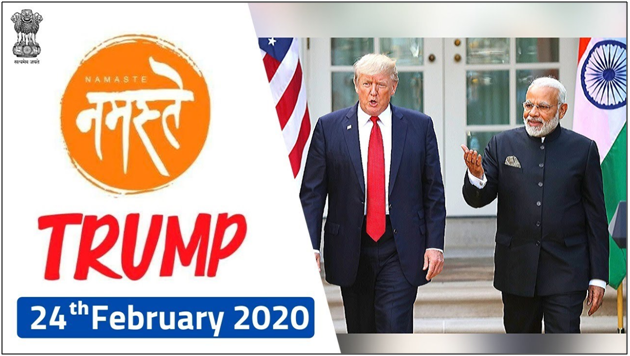 Uploaded by: Ministry of External Affairs
President Donald Trump arrives Monday in a country of billion opportunities.
It's going to be a trip that will create attention and will activate hopes for a significant trade deal between the two countries.
During his two-day visit to India, Donald Trump will be contemplating to enter and have approach to India's massive middle-income consumer base, US companies are looking at expanding to export business should be looking at the Indian consumer market and its dynamics now, which is about 400 million from a total population of about 1.3 billion which could be considered as exciting news for American exporters.
India will achieve success in the enterprise segment of small and medium businesses (SMBs), especially in emerging sectors such as agriculture, battery manufacturing, renewable energy, pharmaceuticals and biotech.
"The world's most valuable resource is no longer oil, but data" – The Economist
& India is about to give rise to prodigious data 'new oil' — in large quantities. India is constantly noticing undivided growth in mobile data fueled by low-cost connectivity enjoyed by 800 million users. Even Facebook and Google, the US tech giants, are earning worthwhile profits using Indian data. In the coming years, to generate jobs and wealth in their country in activities such as artificial intelligence (AI), robotics large number of US firms will be desiring to have these Indian statistics, facts, figures to generate jobs and wealth in their country in activities such as artificial intelligence (AI), robotics.
India Market Entry Services The place to help you start or grow your business in India, offers you a personalized bundled view of India market entry recommendation services to overcome complications and facilitate strategies for your smooth entry in the Indian market.
On the 2nd day of his trip Tuesday US President Donald Trump will be meeting a group of about a dozen Indian CEOs and amongst them will be those who have made funding in the manufacturing sector to create jobs in America.
As India represents a positive scope for market research for overseas investment and is taking necessary steps to attract more foreign investors.
An Overview of Indian Market :
There are multiple fruitful reasons for investors to trade in Indian market :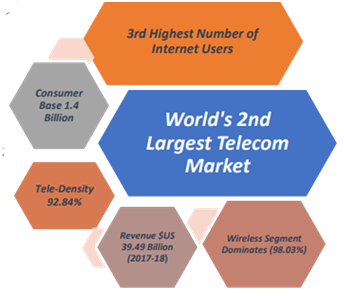 → World's largest Youth country by 2020 : According to market research every third person in an Indian city today is a youth. The population in India is usually between the age-group of 15-34. By 2020, India is set to become the world's youngest country with 64% of its population in the working age group.
→ World's fastest-growing economies : India offers a diverse and dynamic market, and therefore the challenges and opportunities vary, depending on the sector and business model of global firms. With a constantly rising growth rate, several of the strongest industry and agriculture markets worldwide and important exports and imports, the nation is now considered as one of the fastest-growing economies in the world and could become the world's first power by 2050.
→ Robust Demand : India has a robust and well regulated financial system. India's banking sector is strong and with top quality balance sheets, high levels of competition and strong corporate governance which becomes fascinating for the investors to trade in India.
→ Attractive Opportunities : Rising affluence is the biggest driver of increasing consumption in India. India's consumer story will be led by its 129 mn urban mass consumers. Segments like affordable houses, hospitality and warehousing are growing at a fast pace in India, presenting wider opportunities for Investors.
→ Increasing Investment : Centre of global maritime trade to move from the Pacific to the Indian Ocean Region. India and China will be the largest manufacturing hubs of the world by 2030. In the next five years, India will have greater economic influence across the Asia-Pacific Region. Private consumption to be four times by 2025. Increasing impetus to develop infrastructure in the country is attracting major global investors. The sector is one of the largest receivers of FDI inflows in India.
→ Growth in Technology : India has become the digital capabilities hub of the world with around 75% of global digital talent present in the country. With the advent of new technologies, leading Indian IT firms are continuously expanding their product offerings and adding artificial intelligence and block-chain-based developments and creating research and development centres in India. India is also gaining prominence in terms of intellectual capital with several global IT firms setting up their innovation centres in India. Many large global companies target India as a prospective destination to expand their business because of its large consumer demand, bringing with them new technology.
→ Rising consumerism : Modern lifestyle has led to an increase in the demand for safe and hygienically packaged consumer goods. Indian consumer market is expected to become the world's third largest consumer market by 2025.
Growth in the purchasing power of individuals and the organized retail segment. Government is taking steps to promote this segment in the Indian market. It recently sanctioned 42 mega food parks, 228 cold chain facilities, and 10 food labs for testing in India. Introduction of online grocery portals and hyper-local delivery services have led to an increase in the demand for processed food. The market for food machinery is expected to reach ~USD 51 billion by 2024-25. Total consumption of the food and beverage segment is expected to reach ~USD 1.2 trillion by 2025. The sector is expected to receive investments of up to USD 33 billion and generate employment of up to 9 million within the next 10 years.
How can we help?
→ Recommend an entry plan into the Indian market based on current industry trends and competitive dynamics.
→ Determine likely strategic partners i.e. agent/distributor agreements, licensing, value added resellers, technology transfer, buy back arrangements and joint ventures.
→Facilitate introductions and meetings between the client and individual.
We offer a sophisticated combination of consulting, financial, business and industry experience – a result-oriented advisory solution, instrumental in constructing your best market entry plan. This involves helping foreign companies prepare for market, identify suitable target markets and consumers, funding and market entry support via direct export, trade shows, distribution, acquisition or direct investment.